關於滅火器
『成軍17年,萬人演唱會寫下台灣樂團里程碑』

來自南台灣高雄的〈滅火器〉樂團 成立於2000年,由主唱 楊大正、吉他手 鄭宇辰、貝斯手 陳敬元 三位高中同班同學組成;2012年 鼓手吳迪加入後樂團,〈滅火器〉進入一個完整而穩定的狀態。
〈滅火器〉至今發行四張完整專輯與多首單曲,他們以龐克搖滾為基調,歌詞真實地反應現代與生活,貼近大眾,引發許多共鳴。傳唱度極高的晚安台灣、海上的人、島嶼天光等歌曲,讓〈滅火器〉成為這個時代的代表性樂團,更獲得台灣人民樂團的名號。
About Fire EX.
Taiwan's representative Punk Rock Band – Fire EX.
Fire EX. from Kaohsiung, Taiwan, was established in 2000. The band is made up of lead vocalist Sam, guitarist Orio, bassist Jc, who were classmates in high school; drummer Ti Wu joined them in 2012, completing the band.
As of today, they have released four full albums and many singles; Fire EX. combines the base tones of punk rock with lyrics reflecting current times and real-life, striking a chord with those who readily identify with their songs. Popular tracks, such as 'Good Night! Formosa!', 'A Man on the Sea', and 'Island's Sunrise', have made Fire EX. the representative punk rock band of modern times, and earning them the name of 'The Taiwan People's Music Band'.
In recent years, other than participating in differently themed annual Live House tours and various major domestic and international music festivals, Fire EX. has held annual solo concerts since 2013. The band has also collaborated with MONOEYES from Japan to hold the Far East Union tour spanning Taiwan, Japan, and Korea, promoting cultural exchange within Asia through the uniting effects of music.
From their Live House performances that started off with just one to two hundred people in the audience, without mainstream media attention, and without gaudy performance attires, Fire EX. made their way, one step at a time, towards becoming heard throughout Taiwan, and moving on to take on the world.
In 2016, Fire EX. released their album in Japan, and collaborated with legendary musicians such as Takeshi Hosomi and Masafumi Isobe, sparking much discussion, and quickly increasing their fame and popularity in Japan, once again performing in Japan's largest scale music festival – Summer Sonic.
In 2015, Fire EX.'s 'Island's Sunrise' was chosen as the theme song for the Sunflower Movement, bagging the much-coveted 'Golden Melody Awards – Best Song of the Year' award, and in September of the same year, set up their own music company – Fire On Music Co., Ltd.
In the following year, they released their 'REBORN' album, and held a total of 15 concerts spread over two series of album tours. Tickets sold out fast, leading to Fire EX.'s decision to go where no other independent music band had ever gone before – a ten thousand strong, outdoor music concert. The '2016 On Fire Day' marked the first-ever concert to be held in a baseball arena, with ten thousand tickets sold, setting a record for Taiwan's history of independent music, making history together with their fans and turning the page of a new chapter.
After achieving this significant milestone, Fire EX. decided to move forward, endeavoring to do a remake of their more representational songs over the years. 2017 marks the 17th year of the band's establishment, and the band intends to release their first 'new songs + best collection album', while preparing for their annual world tour.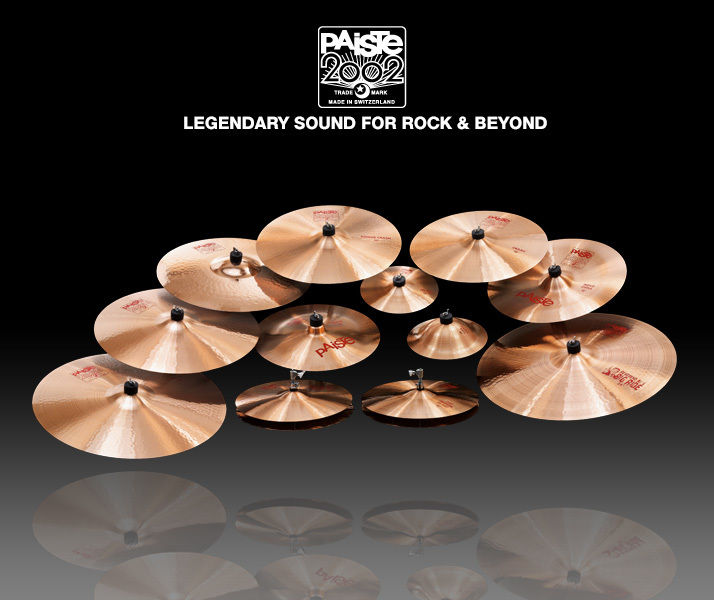 [ 吳迪 代言使用 PAiSTe 2002 系列 ]


■ 2002 14" Medium Hi Hats
■ 2002 17" Crash
■ 2002 18" Medium Crash
■ 2002 20" Ride
■ 2002 18" Novo China
Awards and Nominations
2013
Nominated for the Best Band, Best Live Performance, Best Rock Album, and Best Rock Single awards in the 4th Golden Indie Music Awards.
2014
Nominated for the Best Band, Best Taiwanese Album in the 25th Golden Melody Awards.
2014
Won the GQ Men of The Year Award.
2014
Won the Best Live Performance Award in the 5th Golden Indie Music Awards; nominee of the Best Rock Single and Best Rock Band Award.
2015
Won the KKBOX Annual Independent Spirit Award.
2015
Nominated for the Best Live Performance Award in the 6th Golden Indie Music Awards.
Endorsements & Collaborations
2010
Fight Again – Rise of Legends Theme Song
2011
人生 Life – Theme Song for Hey Song Sarsaparilla's 2011 advertisement
2014
Back to the world – World of Warcraft 10th Anniversary 'Warlords of Draenor' Publicity
Song
2015
前進(Qian Jin) – YAMAHA B'WSR New Motorcycle Publicity Song
2015
SUPER MONKEYS – Theme Song for the Lamigo Baseball Championships
2015
Invited by the Japan National Tourist Organization to VISIT JAPAN and film their MV in the Tohoku Region.
2016
Released the 'Fire EX Special TENGA' together with famous Japanese company TENGA in response to the World AIDS Day, and held the 'Love Myself Charity Concert'.
Significant Domestic Performances
2003 - 2013
Formoz Festival
2006
Nominated for the Ho-hai-yan Rock Festival 'Ho-hai-yan Award'
2006 - 2017
Megaport Festival
2007
Let's go' Album Tour
2009
A Man on the Sea' Album Tour
2010
Shi Nian Dou Zhen (Ten Years Together)' – 10th Anniversary Concert Tour
2011
Honorable Discharge (from National Service) Tour
2012
Fire EX. x Locofrank Taiwan Tour
2013
Goodbye You!th' Tour
2013
Chong Zhuang Wei Lai' – Stadium Concert
2014
Kuai Le De Chu Hang (Happy Sailing)' – Golden Melody Awards Celebratory Tour
2014
On Fire Day' – URS 27 The Grand Green Concert
2015
'On Fire Day' Kaohsiung Live Warehouse 15th Anniversary Concert
2016
On Fire Day' Baseball Arena Ten Thousand Strong Audience Concert
Significant Overseas Performances
2004
Participated in the K-Rock Festival
2009
CMJ Music Marathon, New York
2011
South by Southwest Music Festival at Austin, Texas, and the Canadian Music Week at Toronto, Canada
2012
South by Southwest Music Festival at Austin, Texas
2012
Music Matters in Singapore
2012
Summer Sonic Music Festival in Japan
2014
Invited to participate in the Island Awakening – West Coast Tour in California
2014
Invited to participate in the 'TaiwanFest' tour performance in Canada
2015
Far East Union Tour of Taiwan, Japan and Korea
2016
Summer Sonic Music Festival in Japan
2016
Far East Union Tour of Taiwan, Japan and Korea